1971–1983: A Home as Hospital
Patch graduates from the Medical College of Virginia in 1971. The Gesundheit Institute begins as a group of twenty friends, including three doctors, opening their six-bedroom home to the public for free healthcare. Over its 12-year history, an estimated 15,000 patients were provided healthcare. These years provide a "proof of concept," affirming the effectiveness of a supportive, loving, community on those suffering physical and mental illness. The dream of building a full-scale rural hospital begins here.
---
1981–1998: The Land, the World, the Movie
As a future hospital site in 1981, Gesundheit purchases 321 acres in Pocahontas County, West Virginia with the help of donations. Infrastructure construction includes a lake, gardens, building a 3-story woodshop, and farmhouse expansion. In 1984 Patch organizes Gesundheit's first international humanitarian clown trip to the Soviet Union. Clowns return each year to Russia, developing the basic methodology of therapeutic clowning. GI's sponsors a clown humanitarian clown mission to war-torn Bosnia/Herzegovenia. The movie "Patch Adams" debuts December 1998 in New York.
---
1999–2008: Developing Our Outreach
The public expo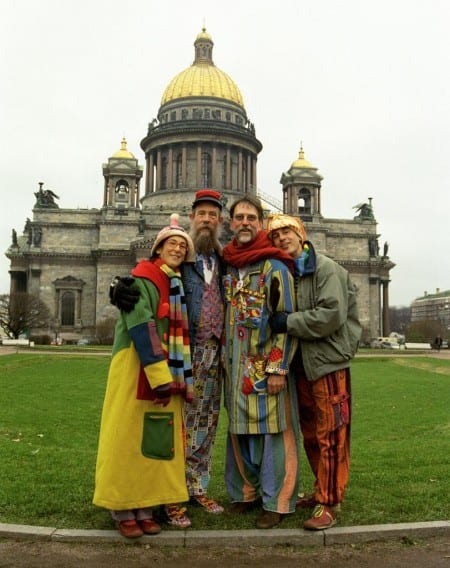 sure from the movie helped launch a decade of growth and development of Gesundheit and Global Outreach. Patch begins an ongoing worldwide lecture tour to raise money for building the hospital.
In West Virginia, building is completed on a domed "Dacha" for housing up to 8 staff members and a Chrysalis-shaped classroom. Illinois-based School for Designing a Society joins with GI, developing educational programs on the land and throughout the US and Canada. Global Outreach expands its scope of care, sponsoring clown missions (including healthcare, community development, and building projects) to more than 50 countries. The clown's therapeutic benefits extend beyond enhancing health of individuals to improving family and community health.