There is an educational component to all Gesundheit projects—the books, movies, lectures, clowning, global outreach, the model hospital project. In addition, Gesundheit hosts events focused on education—at the site of the future hospital and elsewhere—in the form of medical student electives, summer institutes, health care system design intensives, and conferences.
Desire & Design: Construct Your Humanism
July 16-22 and July 23-29, 2023 | Hillsboro, WV
Join Patch Adams and the School for Designing a Society for 2 separate 1-week-long workshops! (attend either or both)
---
The Laughing Body: the Art of Care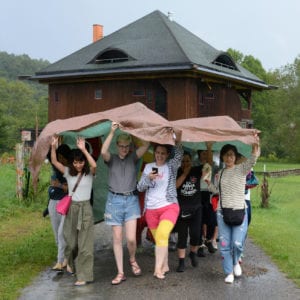 August 20-27, 2023 | Hillsboro, WV

We invite you to spend a week dedicated to reflection, play, and rediscovering the joyful and creative potential of our body and of our inner Nature (our soul), while basking in the wonderful outdoors of the Gesundheit Institute in beautiful West Virginia.
---